Our tankermen earn on average more than $75,000 a year, and you can too!
Since 2003, Petroleum Service Corporation's Tankerman Career Academy (TCA) has been training men and women to meet the petrochemical industry's increasing demand for U.S. Coast Guard-certified tankermen.
NOW ENROLLING FOR OUR SPRING 2020 CLASSES
Our next Tankerman Career Academy classes will begin on March 23, 2020 in the following locations:
Baton Rouge, LA • Corpus Christi, TX • Pasadena, TX • Port Arthur, TX
The Tankerman Career Academy is an on-the-job training program that is typically offered a few times a year, depending on our need for more tankermen. This intensive training program takes ONLY FOUR MONTHS and includes one-on-one field training taught by some of the very best tankermen in the industry.
Get Paid While You Train
While training full-time, Tankerman Career Academy students:
Are paid $14 per hour plus mileage reimbursement for travel to and from field training locations.
Get paid time-and-a-half for all training/work hours in excess of 40 hours per week.
Qualify for many benefits as an employee of Petroleum Service Corporation, including group medical, dental and life insurance; matching 401(k); short- and long-term disability insurance; vacation and holiday pay, and more.
Job Opportunities
Upon successful completion and graduation from the Tankerman Career Academy training program and receipt of the required Merchant Mariner's Credential, graduates are eligible for continued employment with Petroleum Service Corporation. Eligibility for continued employment depends upon the student's overall performance during training, their level of competence at graduation, and PSC's staffing needs. This is not an offer or guarantee of continued employment.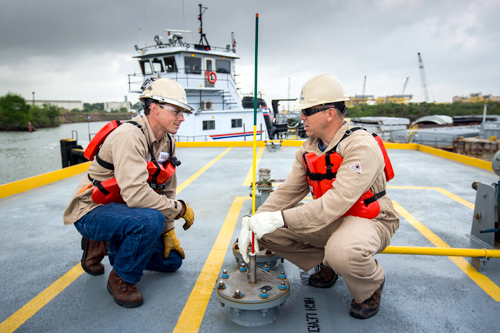 The tankerman's role is critical to our nation's petroleum and chemical shipping industry. The tankerman serves as the person-in-charge of critical operations, with responsibility for protecting the environment by ensuring the safe transfer of petrochemicals to barges. Tankermen must be certified by the U.S. Coast Guard. There are two types of tankermen: boat tankermen and shore tankermen. Petroleum Service Corporation only employs shore tankermen who live at home and travel to various work sites